In case you don't subscribe, I'd like to share this recipe that was in my recent newsletter (view entire newsletter HERE). If I were to link this to any of my books, I'd say this is something that Shinju in Hatsept Heat, Vampire Council of Ethics Bk 3, would make. She's a professional and classically trained chef who dreams of one day having her own restaurant. She ends up revamping (pun intended ;D) the kitchens at the Northern Territory Headquarters of the Vampire Council in Montana…after becoming a Serati warrior, of course. And yes, she cooks for her man in the book. It makes for some interesting, uh, dessert.
I'm not a big raspberry fan, but this looks so good I want to see if I can get my daughter (she's a pastry chef) to make this. Enjoy!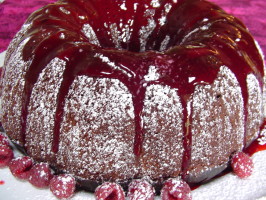 Heavenly Chocolate Raspberry Bundt
Ingredients
1 cup melted butter
2 eggs
2 cups sugar
1 cup milk
1 cup water
1 teaspoon vanilla
3 cups flour
3/4 cup cocoa
2 teaspoons baking powder
1/4 teaspoon salt
Filling
12 ounces cream cheese
1/3 cup sugar
1 cup chocolate chips
1 teaspoon vanilla
1 1/2 cups fresh raspberries
Directions
Preheat oven to 375 degrees.
Grease a bundt or tube pan.
Make filling by creaming together, cream cheese with sugar and vanilla.
Mix in chocolate chips and set aside.
For cake, sift together the flour, cocoa, baking powder and salt.
Beat eggs and gradually add the sugar and beat until the mixture is thick and pale yellow.
Beat in melted butter, then milk, water and vanilla.
Gradually add in the flour mixture and mix well.
Spread half the batter into the prepared pan.
Drop spoonfuls of the cream cheese filling evenly over the batter.
Sprinkle raspberries over the top.
Cover with remaining batter.
Bake at 375 degrees for about 1 1/4 hours.
*all credit given to Food.com – original recipe here